In an effort to break the streak of depressing, woe-is-me posts*, I have decided to write a little homage today. The theme is hot guys and failed relationships... mostly failed because the relationships were actually just in my mind. But still, breaking up is hard to do. It hurts.
Upon first blush, this list might indicate to you that my young years were spent consumed by fantasies of rockers, preferably rocking mullets, and General Hospital. Sadly, this would not be a wrong impression.
So we'll begin with my first true loves, in the 1970s
Speed Racer. The original Speed Racer. I never thought Trixie was good enough for him. I also thought Ace Deucy was kind of hot.
The Hardy Boys
.
Both of them
. I had a poster over my bed. Plus a 'life size' Shaun Cassidy on my bedroom door.
The Fonz
. The details are blurry, but I do believe my first sex dream was about the Fonz. TMI? Sorry.
Rex Smith
. He may have missed your radar, but he was definitely on mine. How beautiful is that hair? I had both of his albums. And saw his move. Repeatedly. I think the movie was about statutory rape, now that I'm remembering it.
And now the 1980s. When I was in high school. This list is by no means complete, but merely a random sampling.
BONO
. My love for Bono began in the early 80s, and has never waxed, never waned, only grown stronger.
The Men of General Hospital. I was obsessed with General Hospital. Seriously. And I'm not going to lie. I still know what's up in Port Charles.
Dr. Noah Drake. aka Rick Springfield.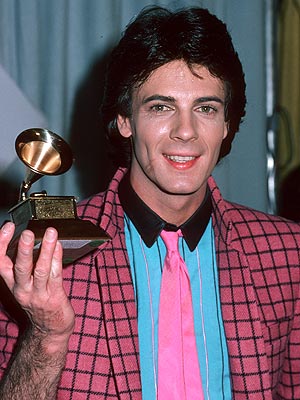 Blackey. aka John Stamos. Who has, OMG, aged well. If you know what I mean.
Frisco. aka Jack Wagner. Who I rekindled my romance with, briefly, during his stint on Melrose Place.
Matt Dillon. Flamingo Kid? The Outsiders? Little Darlings? Oh my.
Johnny Depp
. Much like Bono, my love has remained steadfast. But 21 Jump Street? Where it all began.
Kevin Bacon. The Footloose Version of Kevin Bacon. Though I have to say, I still love him. You had me at Let's Dance!

I'm saving the 90s-current for later, but I must mention my one mainstay of true love in the 90s...
Duncan McLeon, of the Clan McLeon. aka Adrian Paul. OMG, THIS WAS THE MAN OF MY DREAMS. For many years. With the sword and the orgasmic "quickening" when he chopped someone's head off? Owning the complete Highlander TV series box set is on my short-list of things to do.